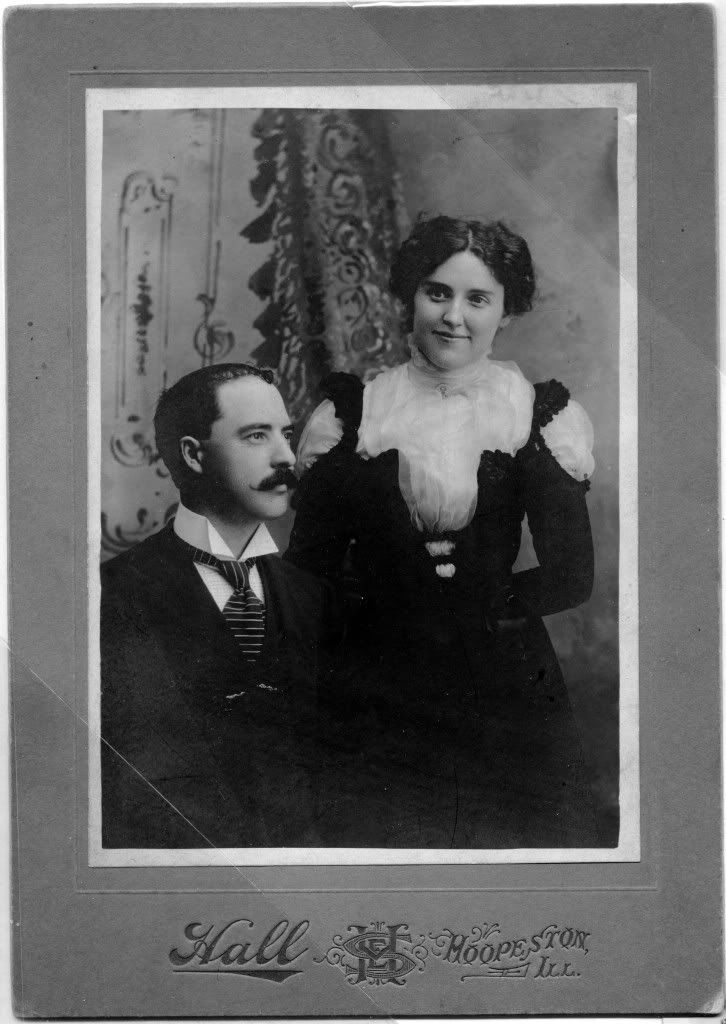 Ina Mae Duley was born April 3, 1872 in Hoopeston, Vermilion County, Illinois, (Outside Chicago.)
Both her parents were originally from Fleming County, Kentucky and only settled in Illinois shortly after William was released from service in the Civil War. William W. Duley?s military career lasted from 1861 until 1863, when his war wounds prevented him from continuing to serve his country. He suffered a musket ball in his knee, which was never removed. It was while he was recuperating that he met, courted, and won the hand of Letitia Wilson. After they were married, William found work first as a horse dealer, but eventually took up farming on a plot outside of Hoopeston. Their children were Ina May Duley, George Wilson Duley, and John Stanley Duley.
The family moved to the Dakota Territory to a 16o acre homestead claim in 1883 when Ina was eleven years old. There Ina attended the Kolda school which was a sod shanty about four miles from their homestead in Hand County. Their stay in Dakotas was short lived; a devastating blizzard in 1886, resulting in scores of lives lost, forced the decision that the family return to Illinois.
When Ina was about sixteen, she entered Greer College, and later studied at the Ladies Seminary at Hoopeston, completing her formal education. She was a talented young lady and those who knew her felt she had a chance for a musical future.
Ina taught school in Illinois from 1892 until 1900, where she met her future husband, James Weston Ogdon. James and Ina were married on September 2, 1896 in Hoopeston, Vermilion Co., Illinois. At that time he was employed as a railway postal clerk and traveled back and forth on the Wabash Railroad line between Toledo, Ohio and St. Louis, Missouri.
Their only offspring, William, was born in Hoopeston on July 22, 1901. After that the family decided to relocate to Toledo. There William, who was academically gifted, eventually became an editor on the Toledo Times newspaper. Both Ina and James would become successful Sunday School Teachers for the next twenty-five years at the Northwest Church of Christ. Ina enjoyed the Opportunity of using her original verses with her young students. Ina was also keeping house and writing almost daily.
When Ina was teaching in Illinois she wrote her first hymn. It had been inspired by a tender story she had read about a young mother whose only child had died. For the three verses which she titled ?Open Wide the Window,? Ina received $3.00.
She would again become inspired when her brother was seriously injured in a train accident and had to spend a long recovery in a Chicago hospital. She wrote him daily letters of encouragement and out of this tragedy grew the song. ?Carry Your Cross With a Smile,? which served to encourage Ina to even greater efforts.
Very early in her teaching career Ina Duley had strong Evangelistic leanings, and hoped to become a preacher on the Chautauqua. circuit, but marriage and family would come first.
About 1912, when her father suffered a paralytic stroke, any plans Ina might have been contemplating were cancelled. She decided to remain at home to care for her father.. The song, ?Brighten the Corner Where You Are? is said to have been written to cheer him while she sat in the upper corner bedroom of her rustic home on Summerfield Road in Lambertville, Michigan.
Esteemed by a large group of friends, the amiable Ina was unassuming in attitude and looked upon her writing ability as something God had given her so she could do His work. She did make it a point to attend any rally that Evangelist Billy Sunday held in or near Toledo. It was reported once in her hometown of Hoopeston that Sunday, at one of his huge rallies of 15,000, introduced Ina as ?the greatest living hymn writer.? A manuscript written about her by Joseph Gardner, Assistant Professor of English at the University of Kentucky, states that Ina, after one Detroit Rally in which Ina was introduced to the throng, following a choral rendition of ?Brighten The Corner Where You Are,? she ?responded to the crowd?s cheers shyly, demurely, and even with embarrassment, family tradition says she loved every minute of it.?
Although she enjoyed sharing her inspirational and gospel pieces with the public, it was not done for the purpose of monetary gain. She felt she was just spreading God?s word and lightening the hearts of others, while the owners of the copyright for ?Brighten? and many other of Ina?s outpourings assumedly made some profit.
An inveterate writer, Ina kept a silver pencil on a silver chain around her neck so she could jot down any thoughts during her daily household routines as a wife and mother. In her later years, Ina would rely upon her trusty Oliver typewriter for her frequent outpouring of hymns, poems and devotionals; this amazing lady remained productive in her nineties.
Over the years Ina, with the encouragement of husband James, published two books. ?A Keepsake From the Old House,? written in 1937 mainly for the many friends they entertained in their antique filled old home on Summerfield Road, was widely received and eventually translated into French, German, Portuguese and Hindi.
A decade later Ina produced: ?Home Woods? which was written in 1946, She later published the inspirational ?Meditations for the Daily Altar.? She once declared that she did not consider her efforts as ?work? because ?Work in never drudgery if you love it.?
A prolific and successful poet, Ina Duley Ogdon wrote numerous books of verse; many were set to music of famous composer, Charles H. Gabriel, with whom she would successfully collaborate for nearly thirty years.
?Brighten the Corner Where You Are? has been noted as the most often performed and reproduced piece of American music in the 20th century, having over thirty-five million copies printed. That made it, in the words of descendant Joseph Gardner, ?the most popular song of the 20th Century,? even outranking ?Stardust? and the ?St. Louis Blues.?
In the 1900?s Homer A. Rodeheaver, musical director for ex-professional baseball player turned Evangelist, Billy Sunday, chose to enliven this Revivalists meetings on the ?sawdust trail? with ?Brighten the Corner Where You Are.? He knew how to make the most of the audience participation by having first one corner of the auditorium sing a verse then the opposite corner, then the third side would join in, so the entire congregation felt the importance of their particular role in the activity. He was an enthusiastic organizer and managed to get the entire Massachusetts Legislature to sing Brighten the Corner Where You Are.? Another time he assembled a group of 16,000 and they all whistled the tune. This piece, which Ina composed in 1913 to cheer her paralyzed father, William W. Duley, is now one of the most recognizable hymns of all time. Teddy Roosevelt used it as his campaign theme in 1916. Clippings in Ina?s scrapbooks (Undated, unfortunately) reflect how popular this catchy tune was. The Christian Endeavor group, some 15,000 strong, sang it as they marched up Fifth Avenue to a rally in New York?s Central Park. It even became the ?fight song? for a Chinese Baseball Team. (Much, much later, the song was recorded by the Mills Brothers and also Ella Fitzgerald.)
The prolific writer of over 3,000 poems and hymns, Ina Duley Ogdon has had them published in at least eight different languages; some were set into Braille by the Library of Congress and the American Red Cross.
Although they were Toledo residents, James and Ina Duley Ogdon summered north of there out in the country just two miles south of Lambertville, Michigan. Ina wanted the peace and quiet so she could pursue her writing. For seven years their summers were spent on the old Stephen Phelps place, on Summerfield Road. Finally, a decision was made to purchase the property and live there year round.
Originally a log cabin was built in the early 1830?s on this site on the old Phelps property on the old Indian trail now called Summerfield Road. The cabin was located on 26 acres of apple orchards, woodlots, meadows, and wild shin-tangle. This original homestead had been greatly remodeled around the mid 1860?s so the cabin was no longer recognizable. This ?newer? structure would eventually be surrounded by landscaped grounds with many trees, fish ponds and flower gardens, designed to attract birds to this carefully naturalized setting. Both Ina and James enjoyed nature and would lovingly tend their plot of land.
About 1929 the Ogdon?s felt they needed more room, so they arranged to acquire a tow story log cabin from the Henry Beck farm near Ottawa Lake. That cabin originally built in 1865, was as old as the main portion of their home, so it fit in nicely. Each log would be numbered, painstakingly dismantled, and transported to the Ogdon property by two area men: Charles Friedly and Fred Hasen, who then patiently reassembled and attached it to the other building on the property.
Over the years, Mrs. Ogdon filled the rooms to overflowing with treasured antiques. A late 1930?s news article about the ?Old House? as it was called, states that Ina kept the home ?unspoiled? by modern conveniences. ?The house is not electrically lighted, as that would spoil the effect.? The collection of antique oil and kerosene lamps and a couple of huge stone fireplaces, complete with andirons, provided both light and warmth. In truth, additional warmth would be provided by inconspicuous radiators fed from a steam heating system in the basement. A gate-leg table, Ina?s favorite comfortable old rocking chair, and antique organ and old spindle beds are among the furnishings which made the home both cozy and inviting.
In an article written by the wife of Howard Schuler, local artist and architect, we obtain a view of the Ina Duley Ogdon living room. Kathryn Schuler describes the then seventy year old Ina: ?Seated in her old rocking chair with Flossie, the green eyed angora on her lap, Mrs. Ogdon scribbles poetry on the pad resting on top of Flossie. The sunlight, shining through the old amber and Bohemian glass on the window sills casts lovely colors on her snow white head.?
?Mrs. Ogdon?s living room is comfortable yet distinctive one with its high mahogany bookcase, the piano, the corner cupboard filled with old blue dishes, a tilt-top table, a horsehair settee and hand woven rugs.?
Kathryn Schuler goes on writing about the most unforgettable character she?s met by telling us that the marble topped table is filled with photos of Ina?s beloved husband, Jim, as well as her son William, his wife and the grandchildren. ?Ina loves people, but her writing comes first always, and so she limits her calling hours to certain afternoons in a week.?
Ina did find time to become involved in the Bedford Township community. Word has been passed down through the generations that Ina sewed the wedding dress for Elsie Janney, a descendant of early pioneers. She even joined some local organizations and in 1948 there is evidence that she was a special Life Member of the Lambertville Educational Club. On occasion, Ina would generously open her home to the community. The Ladies Aid of South Whiteford Church held their Christmas Bazaar there one year.
After the death of her husband, James, in 1949, Ina lived on at the Old House until she could no longer care for it by herself. She moved back to Toledo. She died there on May 18, 1964, at the age of 92. She is buried next to her husband in Woodlawn Cemetery.
In conclusion, through her decades of persistence, this gracious lady, Ina Duley Ogdon, managed to pen over 3,000 hymns, poems and verses, but she will be always remembered most for one in particular. Her words to that one song that spread to all corners of the world., brightening the hearts of millions.
Trudy Wieske Urbani
Footnote; William Ogdon was in later life a member of the New York Times editorial Board. William and his wife, Juanita L. Hammer, were married January 11, 1932 in New York. They had two children. Thomas Hammer Ogdon and Judith Kimball Ogdon, who married Joseph H. Gardner

Sources: Melissa Archibald, Harley Barnett, Joseph Gardner Family Tree, Brighten The Corner Musical Memories of Monroe County, Monroe Evening News Article 8/9/1930 "Charm of Age Retained in Writers's Home" Studies in Popular Culture, IX July, 1986) Kathryn Schuler "The Most Unforgettable Character I Met" The Toledo Times, obituary dated May 19, 1964, Toledo Blade Article 19?2 "Brighten The Corner"

Homer Rodeheaver Sings Brighten The Corner Where You Are
Sign the petition to save this historic property located in Bedford Township.
The Ina Duley Ogdon Home is in Bedford Township,
Michigan
, (
two miles South of
Lambertville, the mailing address is Temperance.
"Pioneer Cabins Still Stand in Bedford Township"
published in the Monroe County Telephone Directory
: By Trudy Wieske Urbani
The Ina Duley Ogdon cabin, "deserving of preservation, was built on an old Indian trail now called Summerfield Road in Lambertville. Constructed about 1830 for Charles and Charlotte Phelps, it was remodeled in the 1860's as their family grew. Around 1920 hymnist, Ina Duley Ogdon and her husband purchased the cabin from Stephen Phelps as a summer cottage, but later decided to move here permanently. In 1930 a second cabin, owned by Henry Beck and built in 1865, was purchased. It logs were numbered, dismantled and moved from Ottawa Lake by Charles Friedly and Fred Hasen. Reconstructed as a wing of this lovely country home, the rustic log cabin portion was purposely left exposed. Ina enjoyed the peaceful country living with its outdoor ponds and gardens, and her antique filled home. It was in an upper bedroom of this home that Ina Duley Ogdon penned a verse to cheer her ailing father. "Brighten the Corner Where you are" was sold (for $3.00) to the music director of Evangelist Billy Sunday, who set it to music and helped make it the most popular hymn of all times. Ina would go on to write over 3,000 verses and two books in her lifetime. "
Sources
Here is a photo of the old home before the log cabin addition was added. You can see to the right of the home the smaller part of the building was already in place. The tree that is seen above that portion of the home is likely the very large tree that is there today.

The Browns Lyrics
Brighten The Corner Where You Are Lyrics
Website Created by Melissa Archibald, Temperance, Michigan [email protected]